Agenda
14th Mediterranean Congress of Physical & Rehabilitation Medicine In Conjunction With The 8th Congress of the Jordanian Society of Physical Medicine, Arthritis & Rehabilitation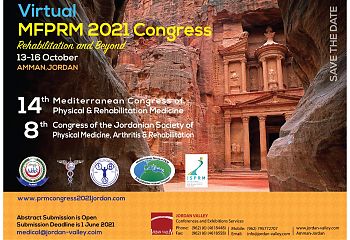 Call for Collaboration
MFPRM
2021 Congress October 13-16, 2021 Amman-Jordan
It gives us a great pleasure and honor to invite you to participate in the 14th Mediterranean Congress of Physical & Rehabilitation Medicine In Conjunction With The 8th Congress of the Jordanian Society of Physical Medicine, Arthritis & Rehabilitation, will be held as a Virtual Congress during October 13-16, 2021 Amman-Jordan.
The scientific program will incorporate a wide range of topics designed to provide an innovative and comprehensive overview of the latest developments in the field of Physical Medicine, Arthritis & Rehabilitation in the Mediterranean countries and the world.
Your active and valued participation in this event will undoubtedly contribute to its success and will be much appreciated and acknowledged. We are confident that you will give this matter careful consideration and thank you in advance for your support and participate.
Kindly encourage your society members to participate, register and submit abstracts in this congress. Also please announce this email on your society website "attached the congress announcement".
For more information, you are invited to visit the congress website: www.prmcongress2021jordan.com
or contact our event management company: Jordan Valley Conferences and Exhibitions Services +962795772707, infojordan-valley.com
Your Participation is highly appreciated.
Yours sincerely,
---