Agenda
25e Congrès de la SOTUMER
La Société Tunisienne de Médecine Physique, Rééducation, Réadaptation Fonctionnelle organise son
25ème Congrès National de Médecine Physique et de Réadaptation
pour télécharger le programme cliquez- ici
programme 25eme congrès de la SOTUMER pdf
---
Les premières rencontres du service MPR/ EHU ORAN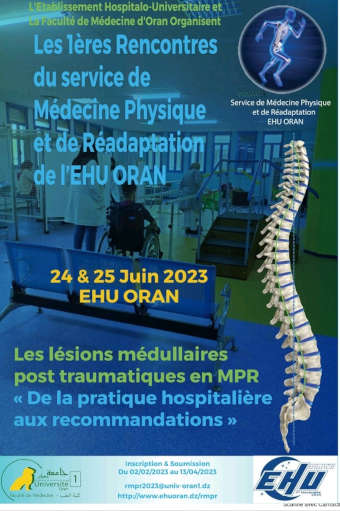 ---
---
the MFPRM 2023 Congress july 2023
Dear Honorable Colleague,
On behalf of the Scientific Committee of the MFPRM 2023 Congress (https://mfprm2023rome.com) which will take place in Rome from 6 to 8 July 2023, I have the pleasure to invite You in Rome.
The venue will be the NH Hotel Vittorio Veneto, close to Rome Center, Italy. (https://www.nh-collection.com/it/hotel/nh-collection-roma-vittorio-veneto).
The Scientific Committee is working for up to date sessions on PRM themes. Many eminent speakers present the last innovations and point of view. Workshops dedicated to PRM will be organised.
The venue is a good opportunity to visit the charming, romantic, and ancient Rome. The Congress Organization will prepare attractive tourist itineraries for congressmen and their families.
The registrations fees are divided in High, Middle and Low income Countries. A Special fee is for MFPRM, ISPRM, ESPRM Members.The policy of the Congress Scientific and Local Committees is to keep the participation fees low, favouring the participation of congressmen, young and old, trainees and specialist. An Early Bird Registration Fee is online (E.200) till 31st October 2022.
Please, advertise the Congress in your PRM societies.
My hope is to see You and your Colleagues  in Rome those days. Please, have abstracts sent to the scientific committee by the website.
I am at Your disposal for suggestions, questions, observations.
Visit Rome, You are Welcome!!
Best Regards,
Cal
Calogero FOTI, MD, FEBPRM
MFPRM Secretary
Physical and Rehabilitation Medicine ChairClinical Sciences and Translational Medicine DepartmentTor Vergata UniversityRome, Italy, EU
---